ACC Online Learning
ACC Understanding Ethics: How They Apply to Project Delivery On-Demand Webinar
Product not yet rated
Register

ACC Member - $149
Military (excludes contractors; .mil email required) - $99
Airport/Airline Employee - $99
Local, State or Federal Government Agency - $99
Academic (.edu Email Required) - $49
Non-member - $199
This ACC on-demand webinar will provide an overview of how ethics may play a role in project delivery. Many professionals (planners, engineers and lawyers) have a professional code of ethics that they are obligated to abide by. Often these need to be considered when working with clients to deliver a project. Our panelist will discuss the general ethical responsibilities of each profession. This will focus on balancing the ethical complexities that arise in the airport context where there is an interplay among the private sector, government agencies and the public. The program will explore practical examples of where ethics may not be immediately intuitive to non-professionals and will use case examples as exercises for participants to understand how the ethical rules affect regular interactions with airport clients and the public.
LEARNING OBJECTIVES
At the end of this ACC on-demand webinar, participants will be able to:
• Summarize the basic foundational principles of various professional code of ethics.
• Recognize how ethics affect interactions with their clients.
• Explain how the ethics of each element (planning, engineering, legal) may be different.
• Apply the principles of ethics to practical everyday problems encountered by airport professionals
PRESENTERS
• Stephanie Ward, AICP, Manager, Aviation Planning, Mead & Hunt, Inc. (Moderator)
• Peter J. Kirsch, Esq., Partner, Kaplan Kirsch & Rockwell, LLP
• Ryk Dunkelberg, Esq., Vice President, Aviation Planning and Environmental Consulting, Mead & Hunt, Inc.
• Greg Heaton, P.E., CM, Vice President and Aviation Lead, Crawford, Murphy & Tilly, Inc.
REGISTRATION
The registration fee is $89 and registration is per person.
EARNING PDH CREDITS

To earn PDH credits for this on-demand webinar, you will need to view the recording in its entirety, complete the brief evaluation survey, and pass the quiz with a score of 70% or better. ACC reports attendance/PDH credits to eligible participants directly to RCEP.net within 30 days of receiving notification of your passing grade.
Peter J. Kirsch
Partner - Kaplan Kirsch & Rockwell LLP
Peter J. Kirsch is a partner with the law firm of Kaplan Kirsch & Rockwell LLP, and splits his time between Denver, Colorado and Washington, D.C. His practice emphasizes regulatory, environmental, and land use law for transportation and infrastructure projects. For almost 30 years, Mr. Kirsch has concentrated his practice on airport development and regulatory issues. He regularly advises airports and local governments on land use law, federal legislation and regulations, and airport financial issues. Mr. Kirsch has represented clients in precedent-setting litigation relating to the powers of airport sponsors, control of airport noise, and preventing encroachment of incompatible land uses. He has been involved in the development of most of the new commercial airports in the United States in the last quarter century, as well as dozens of airport expansions, redevelopment projects, airport collateral land projects, and airport lease negotiations. Mr. Kirsch regularly advises airport governing bodies on governance issues, and legal obligations to the federal government. He is a frequent speaker at professional conferences on airport development and operational issues in the United States and elsewhere. Mr. Kirsch is admitted to practice in the District of Columbia, Colorado, Maryland, and Washington State, as well as many federal district and appellate courts and the U.S. Supreme Court. He is a graduate of Oberlin College and the University of Chicago Law School.
$i++ ?>
Stephanie Ward (Moderator)
Manager, Aviation Planning
Mead & Hunt
As an aviation planning manager for Mead & Hunt, Stephanie Ward, AICP oversees the development of planning projects for airports, as well as state and federal agencies. Stephanie has 30 years of experience in the aviation industry and has been heavily involved in all aspects of aviation during that time. As a private pilot since the late 1980's, Stephanie is passionate about working with communities and airport sponsors to keep airports viable. She is also an instructor at Western Michigan Aviation teaching airport planning. She has a degrees in Urban Planning and Parks and Recreation Resources from Michigan State University.
$i++ ?>
Ryk Dunkelberg, Esq., AICP
Planning/Environmental National Aviation Practice Leader
Mead & Hunt
Ryk Dunkelberg is Mead & Hunt's national practice leader for aviation and environmental planning, a key client liaison and an active project director with over 46 years of experience. He joined Mead & Hunt with Barnard Dunkelberg & Company in June 2012.
Educated in planning and law, Ryk Dunkelberg serves as a project principal for the firm's master planning, noise and land use compatibility studies, and environmental planning projects. Ryk is involved in and responsible for sustainability studies, airport master planning studies, site evaluation and selection studies, FAR Part 150 studies, environmental assessments and impact statements, and airport resource planning and analysis. As a project director, he is responsible for the administration and management of complex environmental and planning programs. He has been responsible for preparing more than 46 FAR Part 150 studies and noise exposure map (NEM) updates and numerous NEPA documents of all sizes.
Ryk serves as the principal-in-charge providing quality assurance for many of our aviation projects. This involves listening to the airport sponsors, reviewing project scopes, and reviewing draft through final documents. In this role, he makes site visits to airports as warranted to review our staff's work.
$i++ ?>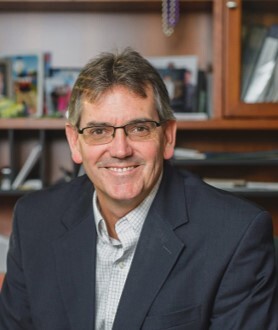 Greg Heaton, P.E., AICP
Vice President and Aviation Group Manager - Crawford Murphy & Tilly
Greg Heaton, PE. AICP is a Vice President and Aviation Group Manager with Crawford Murphy & Tilly. Mr. Heaton brings 35 years of experience in the planning, environmental analysis, and design of airport facilities of all sizes. A licensed Professional Engineer in multiple states and a Certified Planner with American Institute of Certified Planner, APA, Mr. Heaton is a respected leader with a strong management background.
A graduate of the University of Illinois in Civil Engineering, and a graduate of the University of Phoenix with his Masters of Business Administration, Mr. Heaton has spent his entire career with airports and assisting them in developing quality facilities to serve the flying public. He has been responsible for project management in all facets of aviation development projects throughout the nation including planning, environmental, financial, engineering design and program management. Greg has a reputation for excellent client service, consensus building and community outreach and a history of successful advocacy for airport clients.
$i++ ?>
Key:

Complete

Next

Failed

Available

Locked
Select the "View On-Demand Recording" button to begin.
Select the "View On-Demand Recording" button to begin.
Participants must use Google Chrome, Microsoft Edge, or Mozilla Firefox as their web browser to view this webinar recording. Please download the presentation under the "Handouts" tab before viewing the recording.
11 Questions
Participants are required to complete the evaluation survey to earn PDH credits for attendance.
5 Questions | 3 attempts | 70/100 points to pass | Graded as Pass/Fail
5 Questions | 3 attempts | 70/100 points to pass | Graded as Pass/Fail
To earn 1.5 PDH credits for this ACC on-demand webinar, participants must take the 5 question quiz and earn a score of 70% or better. Participants have three attempts to pass the quiz. Within 30 days of successfully passing the quiz, ACC will report your attendance/PDH credits directly to RCEP.net. You will receive notification from ACEC/RCEP when your credits have been reported by ACC. Log-in to your RCEP account to download/print your certificate of completion.
| Access Date | Quiz Result | Score | Actions |
| --- | --- | --- | --- |
PARTICIPANT CRITERIA TO EARN CM ETHICS OR PDH CREDITS
Participants are responsible for meeting all the following criteria to earn credits for this on-demand webinar:
• Be a paid and registered participant for this training;
• View the recording in its entirety (credits are not issued for partial viewing);
• Complete the evaluation survey; and
• Pass the quiz with a score of 70% or better.
RECEIVING PDH CREDITS
ACC reports attendance and PDH credits for eligible participants directly to RCEP.net within 30 days of the passing of your quiz for this on-demand webinar. Participants will receive an automated email directly from RCEP/ACEC with notification of reporting of attendance/PDH credits by ACC, and are encouraged to check their spam/junk email in-box for this communication. Participants can log-in to their RCEP account and download/print a copy of their certificate of completion. If the participant does not have an existing account with RCEP, one is automatically created for them when ACC reports on-demand webinar attendance/PDH credits. The automated email sent to the participant from RCEP will include details on how to log-in to their new account, along with a temporary account password. PLEASE NOTE: ACC does not have access to the RCEP account of any participant, nor information on account passwords. Participants will need to contact RCEP directly at (202) 347-7474 for assistance, or can visit RCEP.net, enter their work email address in the log-in, and click "Forgot Password."
OBTAIN CM ETHICS CREDITS
Upon completion of the evaluation survey and passing the quiz with a 70%, participants holding the AICP professional designation must self-report their CM credits to the American Planning Association (APA). Please refer to APA/AICP course #9217797.
SHARING OF YOUR ON-DEMAND WEBINAR LOG-IN CREDENTIALS OR PROVIDING VIEWING TO NON-REGISTRANTS
The registration fee for ACC on-demand webinars is "per person." The sharing of your log-in credentials or viewing of the on-demand webinar by non-registered individuals is prohibited. Doing so will nullify the issuance of your credits.
ACCREDITATION QUESTIONS?
If you should have any questions pertaining to credits for this webinar, please contact us at training@acconline.org.